Diesel Switch by HP Tuners
$79.99
Hardware 6-position rotary switch for HP Tuners L5P Switch on the Fly
In stock (can be backordered)
Change maps at the turn of a switch.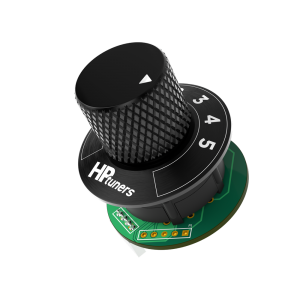 Diesel Switch by HP Tuners lets you power up from a stock calibration to one of five custom maps with the turn of a switch. Pair with HP Tuners Switch on the Fly OS for complete control and performance.
Diesel Switch features:
5' OBDII pass-through cable
Knurled aluminum switch knob and position dial
Six-position rotary switch
There are many possible mounting solutions for the Diesel Switch in your truck's cabin. HP Tuners offers two OBDII port brackets as an option to conveniently install your Diesel Switch. Download files here to 3D print brackets for easy integration.
HP Tuners is proud to offer the world's first integrated ECM map-switching solution for the GM E41. This custom Operating System (OS) code modification is available for 2017+ Chevrolet/GMC trucks with the 6.6L L5P. SOTF can store the stock calibration plus five additional maps at the same time. Keep your hands on the wheel and select your map with the OEM cruise-control buttons too. Change maps on the fly without stopping to re-flash your ECM.

An HP Tuners upgraded E41 ECM is required for SOTF and Diesel Switch. The L5P ECM Service from HP Tuners gives you the power to tune your 2017+ Chevrolet Silverado and GMC Sierra 2500/3500 6.6L Duramax. Take advantage of any of our three available options to calibrate, log, and scan via your vehicle's OBDII port. With any choice, you receive an E41 ECM that is compatible with the MPVI2 and VCM Suite. For more information, please visit the L5P ECM page here.