The automotive aftermarket is ever-evolving with new technologies, performance benchmarks, and enthusiast needs. As such, our team here at HP Tuners is committed to innovating as we strive to deliver only the best tuning and diagnostics solutions for every type of enthusiast—from tuning professionals to shadetree mechanics.
Whether your goal is to level up your streetcar performance, boost the power of your dedicated racecar, set up your powersports vehicle, dial in your truck, or simply run diagnostics on your vehicles, we've built an extensive ecosystem of diagnostic and calibration tools enabling you to achieve your performance goals and ultimately, drive your vehicle the way it was meant to be driven.
LET'S START WITH THE BASICS.
WHO IS HP Tuners?
IT ALL STARTED IN THE GARAGE.
During the early 2000s, two friends from across the world, who met because of their passion for racing cars, discovered a serious inconvenience for enthusiasts in nearly every division of the aftermarket industry. There was virtually no user-friendly and inclusive custom tuning hardware and software that was compatible with a variety of platforms, including one of the friend's V6 Pontiac.
After installing some bolt-on modifications, he needed to tune the car, but no one offered tuning support. So, the two friends took it upon themselves to find a solution—and HP Tuners was born.
After much grinding and growing, HP Tuners is now recognized as offering the industry's most advanced and capable scanning, diagnostic, and custom calibration hardware and software for thousands of OBDII-equipped import, domestic, and powersports vehicles.
WHY DOES HP Tuners EXIST?
Equipping enthusiasts and builds of any caliber.
HP Tuners exists to equip enthusiasts, tuning professionals, and aftermarket manufacturers alike with the necessary tools to achieve their vehicle goals, whatever those may be. These tools present the most complete and cost-effective diagnostic, scanning, logging, calibration, and data acquisition solutions for vehicles/builds of any level. From 1000HP muscle car builds to tasteful streetcars, dedicated track and drag racing cars, work-hard-play-hard trucks, dune buggies, jet-skis, and more, HP Tuners has the tools to help you achieve your vehicle goals.

What does HP Tuners actually do?
We make the tools.

You make the power.
If you're anything like those two friends back in the early 2000s, you're looking to tune your car, or someone else's car. HP Tuners offers complete tuning solutions for a continuously growing list of vehicle platforms through our advanced hardware and software offerings.
Hardware
Our flagship MPVI3 device is our advanced multi-vehicle OBDII interface tool that connects your vehicle's control module to our tuning software via its OBDII port. Through our credit-based licensing system, you can license and tune any vehicles supported by HP Tuners. Purchase your credits online and you can license thousands of vehicles using a single MPVI3 device.
Step it up with PROLINK+, enabling drivers to seamlessly integrate their wideband O2, boost pressure sensor, and more, with the MPVI3 for an enhanced calibration and logging experience. Paired with our VCM Suite software, we make reading, editing, and writing your vehicle's tunes and maps faster and easier than ever.
Note, our OBDII interface does not have any pre-loaded maps or tunes.
Software
This is where all the magic happens. The HP Tuners' VCM Suite includes our VCM Editor and VCM Scanner, giving you as the driver and/or tuning professional our most advanced and inclusive scanning, diagnostic, logging, and calibration capabilities. VCM Scanner allows drivers to view, chart, log, and display data in real-time with both gauges and charts, with high-speed data-logging capabilities. VCM Scanner also makes it easy to diagnose and clear your trouble codes when they pop up. Once you've analyzed your data, use VCM Editor to adjust more defined parameters—like, spark, fuel, RPM limits, exhaust valve control, fan temps and speed, and so much more. Then, write back to your vehicle in just seconds.
Our VCM Suite tuning software is built for enthusiasts like you, making it easier to read, edit, and write your vehicle's control module. VCM Suite offers the most customized and user-friendly experience of any tuning software on the market today.
Even More Tools
Once your vehicle is dialed in, capture your track days and off-road adventures with our free-to-download TrackAddict app and RaceRender software. Record your laps, analyze your performance data, and impress your crew with sweet video overlays in just minutes.
If you're part of the diesel community, our Diesel Switch and Switch on the Fly software allows drivers to power up from a stock tune to one of five custom maps in seconds. And if that wasn't enough, take your adventures off the pavement with HP Tuners' OBDII Adapter Cable for powersports vehicles, like side by sides, ATVs, Sea-Doos, and more.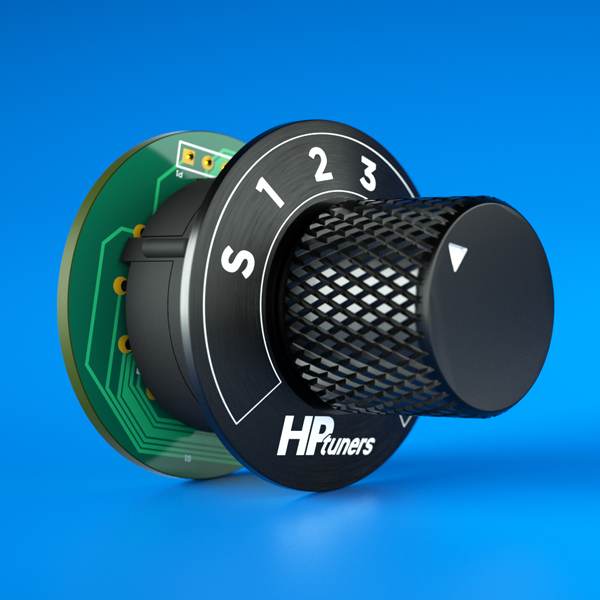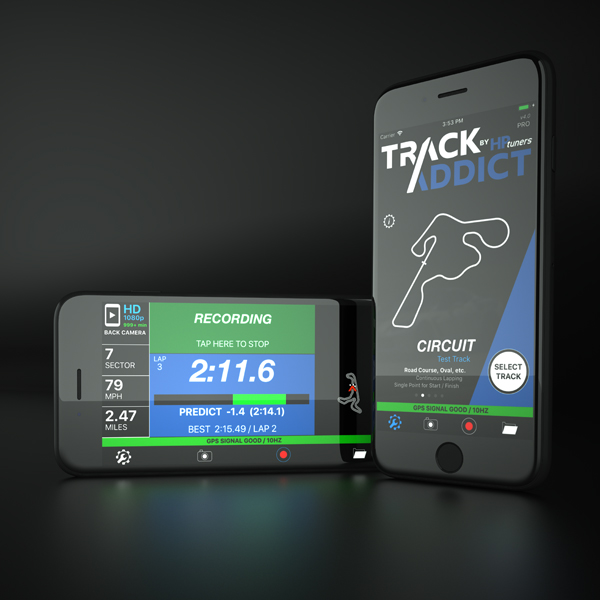 How does HP Tuners set the industry standard?
Faster lap and load times than the competition. Every. Time.
Our latest generation of hardware and software offers the quickest reads and writes, the most competitive price, and the most feature-rich products the industry has to offer. Thanks to VCM Scanner and Editor, enthusiasts and tuning pros get state-of-the-art data logging capabilities and more defined parameters than any of our competitors.
If you thought your tuning experience ended with one vehicle, think again. Tune all the toys in your garage using a single MPVI3 device courtesy of our credit-based licensing system. No other commercial tuning package on the market offers the high levels of user-friendliness, data integrity, technical support, or reliability as HP Tuners.