CORE ECU BY HP TUNERS
A NEW STANDALONE ECU IS MOVING IN.
Introducing HP Tuners' debut standalone engine management solution, delivering superior control over your vehicle's powerplant. Available for purchase in early 2024.
CORE ECU is HP Tuners' all-new standalone ECU, currently supporting the legendary Gen 3 and Gen 4 LS platforms. Programming CORE ECU is the newest addition to our software lineup, VCM Live.
Together, hardware, firmware, and software work in harmony to control your engine's operation and vehicle dynamics.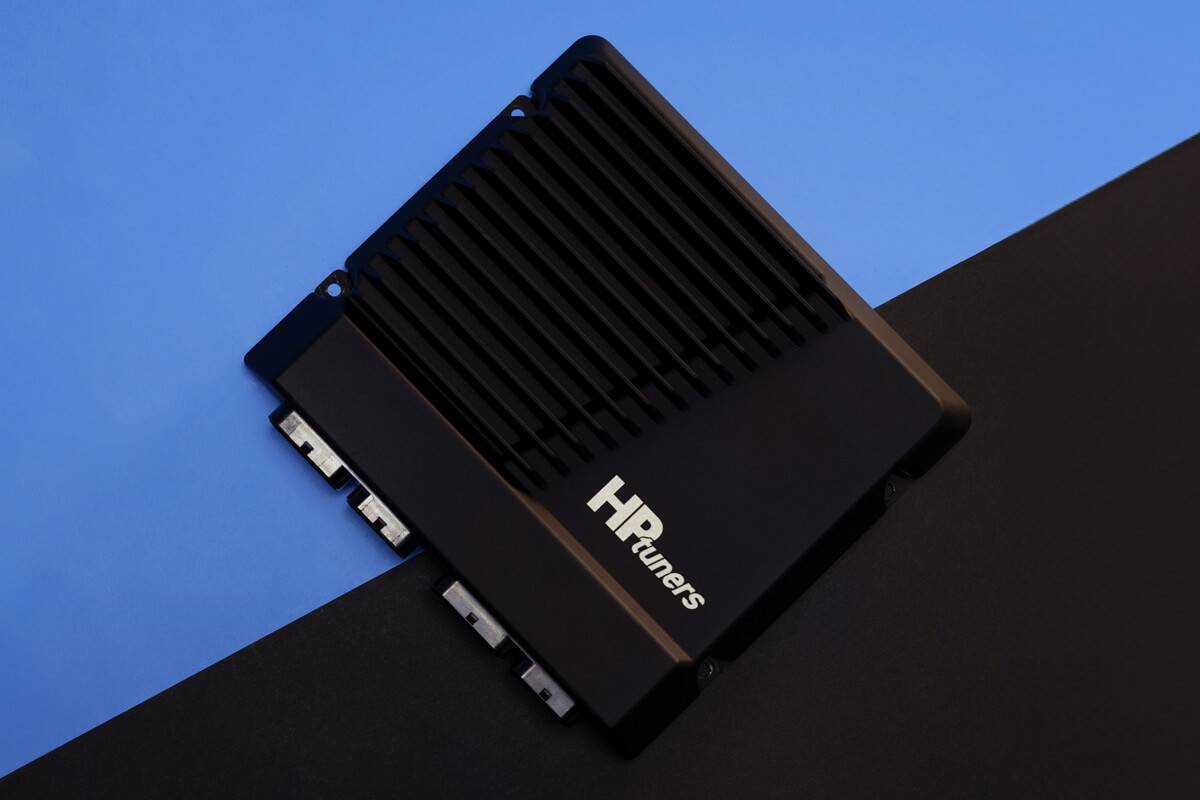 CORE ECU FEATURES
Up to 16 Injector Control (fuel) and 8 Coil Packs (spark).
Sequential Injection.
Flex Fuel Support.
Dual Throttle Body Capability.
2-Built-In Lambda Controllers.
Internal Data Logging – Up to 150 Channels at 1 kHz
3 CAN Bus Networks (2 CAN and 1 HPT Net) and Ethernet Connectivity.
Turbo Boost and Anti-Lag Control.
Single-Stage On/Off and Progressive Nitrous Control.
Launch Control.
Map Switching.
A/C Control, Alternator Control, etc.
---
PUSH THE BOUNDARIES
Built for the gearheads and craftsman who need the utmost level of customization and control, CORE ECU goes beyond the constraints of factory ECUs.
This controller provides all the necessary sensor interfaces, ignition drivers, injection drivers, and output drive stages required for total engine control.
Developed for high-performance applications like:
Drag Racing
Circuit Racing
Off-Road Racing
Drifting
Rallying/Rallycross
RestoMods
CORE ECU is intended for use with reasonable basis (independent documented testing), pre-emission vehicles (pre-1975) and off-road / race competition use only. HP Tuners does not condone the misuse of its products.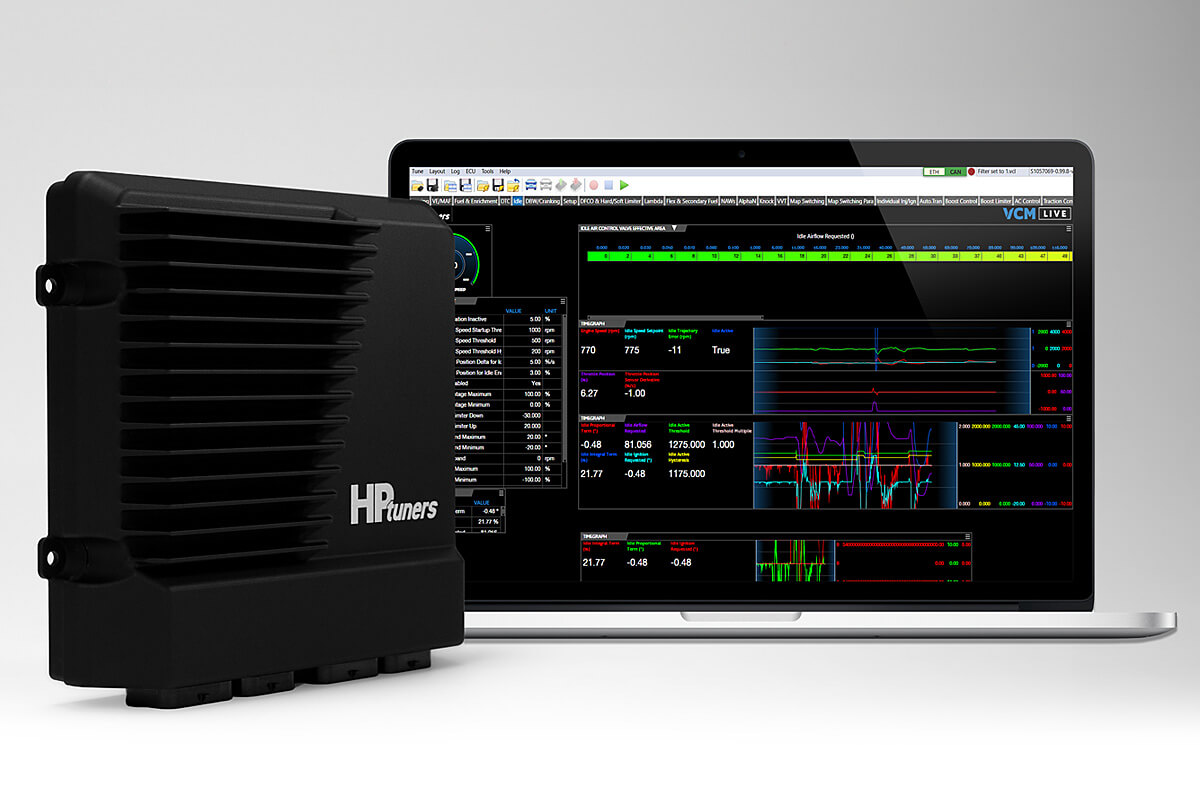 THE NEW SOFTWARE
VCM Live is the software component that brings CORE ECU to life. Combining the diagnostics and calibration elements into a single, user-friendly interface.
Fully Customize Your Layouts.
Pre-Defined Layouts for Easy Use.
Real-Time Tuning and Data Review.
Built-In Trigger Scope Capabilities.
Wizards For Easy Setup of Popular Sensors, Injectors, and more.
---
VCM LIVE SOFTWARE SPECIFICATIONS
Customizable Time Graphs
Characteristics List
Decimal Adjuster
Templated Basic and Advanced Layouts
Fully Customizable Layouts
Standalone Data Logging Up To 1000hz With Start/Top Triggers
(2) Customizable CAN Configurators
Engine Protection Like Hard/Soft Limiter Cut Mode, Oil Pressure Limits, Fuel Pressure Limits, Boost Limits, Etc.
Ethernet Communications
Preconfigured Wizards for Injectors, Intakes, Throttle Bodies, Etc.
Enable/Disable Live Tuning
Countless Editable Parameters
Open Multiple Tables at Once
Table Smoothing
Table Vertical and Horizontal Specific Smoothing
Table Interpolating
Export Feature to View/Modify File via Microsoft Excel (.CSV)
INTERESTED IN CORE ECU?
Be the first to know when CORE ECU is available for purchase in early 2024. We mean it. You'll be notified 24 hours before orders open for CORE ECU.
COUNT ME IN!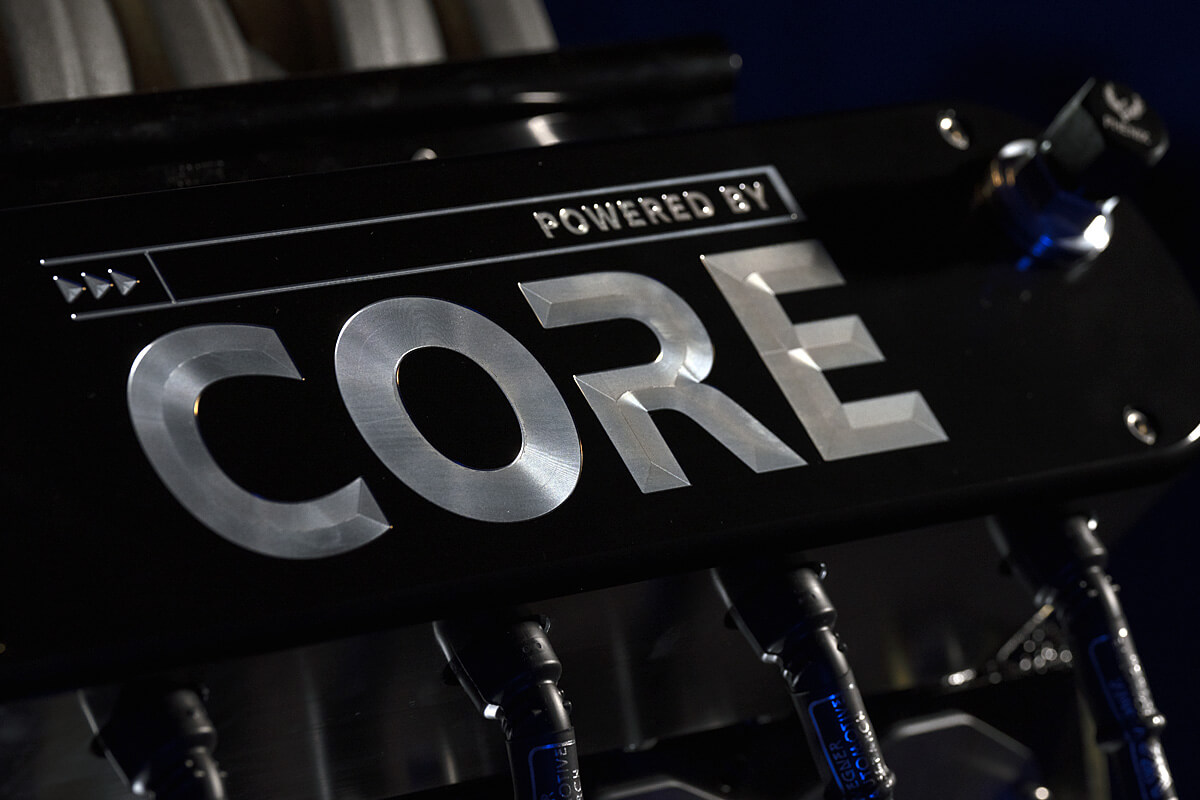 CORE ECU VEHICLE SUPPORT SPECIFICATIONS
CORE ECU is designed for all levels of LS swaps and high-performance motorsports builds. It currently supports Gen 3 and Gen 4 LS engines with a 24x crank and 1x cam trigger along with 58x crank and 4x cam triggers.
SUPPORTED LS ENGINES INCLUDE BUT ARE NOT LIMITED TO:
LS1
LS6
Early LS2
58x crank
LS3
LS7
LS9
LSA
*Along with any other 24x crank and 1x cam / 58x crank and 4x cam setup.
CORE ECU TECHNICAL SPECIFICATIONS
IP66 Rated
Trigger Scope
Configurable CAN
(3) Separate CAN Channels

(2) Traditional CAN
(1) HPTNet

PC Connection via Ethernet
Logging Memory – 2 GB
Laptop Datalogging via VCM Live
On-board Data Logging – up to 150 channels at 1Khz
On-board Wideband – 2 Build-in Channels
Password – Security for Locking Tune
User Defined Capabilities (Configure Analog Input to digital [on/off] or analog reading)
Digital Inputs
Analog Inputs
Temperature Inputs
Low-Side Injector Control
Injector Drivers
Ignition
User Configurable
Digital Outputs
Low-Side Output
High-Side Output
Half-Bridge Output
Nitrous Control
Boost Control
Transmission Control
Drive By Wire
Secondary Fuel Injections
Flex Fuel Input
Closed Loop O2 Control

Including Short Term Fuel Trims

Knock Control
Variable Cam Control
Engine Protection
Map Switching
Flat Foot Shift Support
Launch Control
Traction Control
Virtual Torque Calculation for Future Torque Management Integration
FEATURES
Up to 16 Injector Control

The ability to have (2) injectors on a single cylinder so you can dial-in your vehicle for power and improve the drivability of the vehicle.

Sequential Injection

If need be, each injector can be fired individually. Inject fuel into one cylinder per the firing order (1-8-7-2-6-5-4-3).
Increase or reduce fuel flow in a particular cylinder.

Flex Fuel

Use fuel with any percentage of ethanol.
No need to plan fuel stops based on ethanol locations or adjust the tune based on content readings.
Control the spark timing of individual cylinders for complete combustion and smooth power delivery.
Retard or advance ignition spark per your needs.
Control a 2nd drive-by-wire throttle body without any power supply or controller.
Use alongside any dual throttle body intake manifold for increased airflow and power.
Set your air-fuel ratio and let the closed-loop fuel control do the rest.
No more CAN overcrowding or signal loss.
Greater versatility with 1 HPT Net and 2 traditional CANs.
Log the required parameters simultaneously at the proper rates so you don't miss key information needed to improve performance or diagnose an issue.
Store data on the ECU to review later.
Built-in clock for timestamping data logs.
Fully control how nitrous behaves – a quick ramp-up or RPM-based. Get the power when you most need it.
Established strategy with multiple safeties in place.
Future capability for additional platforms.
Take full control of your vehicle, no matter the driving surface.
Tailor the wheel slip to your needs for the drag strip or road course.
Stay cool with A/C control.
Ability to control alternator voltage output.
Robust safety checks with soft and hard limits.
ECU can control the turbocharger.
No more waiting for the turbo to kick in. Get the power you need, when you need it.
ECU supports automatic transmission – where transmission switches automatically based on engine speed and other parameters.
Currently supporting 4L60e and 4L65e transmissions.
Additional support coming soon.
Set limits to optimize traction off the line for even greater performance.
Easily switch between calibrated maps.
Supports multiple modes such as:

Eco, Normal and Sport
Low, Medium, and High Boost
A throttle body gives more airflow to the engine, hence giving more power.
Every cylinder gets its own throttle body for better throttle response and improved performance for naturally aspirated applications.
CORE contains Alpha-N strategy.
At launch, there will be two wiring harness options available to bundle with CORE ECU.
24x Drive-By-Cable Harness
58x Drive-By-Wire Harness