HP Tuners' ECM, PCM, and TCM Services Explained
Published on: May 3, 2022Categories: Product Education

As vehicle manufacturers continue to make advancements with new automotive technologies, the way we support the automotive aftermarket evolves, too.
Back in the day or with older platforms, you could simply plug in your HP Tuners' interface, license the vehicle, and start tuning and running diagnostics whenever your heart desired. But some OEMs are making this a little more complicated on new vehicles with "locked" ECMs, PCMs, and even TCMs. Fortunately, we have solutions.
Remember, here at HP Tuners, Dodge vehicles refer to all Chrysler, Dodge, Ram, and Jeep vehicles.
Quick Links:
– Important Disclaimers
– Purchase
– Exchange
– Upgrade
– Options Tailored For You
Important Disclaimers
Regardless of the service, your upgraded, exchanged, or new ECM/PCM/TCM will only be compatible with HP Tuners' tuning and calibration software—VCM Suite.
Additionally, for exchange and upgrade service options, your original ECM/PCM that you send HP Tuners MUST meet our criteria. This means your control module cannot have any fire or water damage, has no broken tabs or connectors, and is completely functional and physically intact. If you send in a control module that does not meet these criteria, we will send it back and you will receive a refund.
ECM – Engine control module
PCM – Powertrain control module
TCM – Transmission control module.
Purchase
The purchase option is pretty straightforward. If you have a locked GM E41 ECM, GM E99 ECM, or Dodge PCM, you can purchase a brand new, already upgraded control module from HP Tuners. Your new control module will be ready-to-tune with our VCM Suite software once you perform a few relearns/reprogramming that are outlined in the supplied installation instructions (see T93/T87A instructions for example) and license the vehicle.
This option is available for:
GM E41 ECM (L5P): (2017+ Chevrolet Silverado and GMC Sierra 2500/3500 6.6L L5P Duramax)
GM E99 ECM: (2019+ Chevrolet Corvette ZR1 6.2L V8 LT5)
GM E90 ECM: (2019-2022 Chevrolet Silverado & GMC Sierra, 5.3L & 6.2L V8 [L84/L87] [pre-facelift trucks])
Dodge PCM: (2015+ Dodge/Chrysler/Jeep/RAM vehicles (all FCA models, except the 2015+ Dodge Viper and 2014 to 2019 Jeep/Dodge/Ram vehicles with the EDC17C79 PCM)
GM T93 TCM: (2019+ GM vehicles equipped with 8 and 10-speed transmissions (non-Global A or B)
GM E93 ECM: (2020-2023 Chevrolet Silverado & GMC Sierra, 6.6L (L8T) & 2021.5 Silverado/Sierra 1500 5.3L)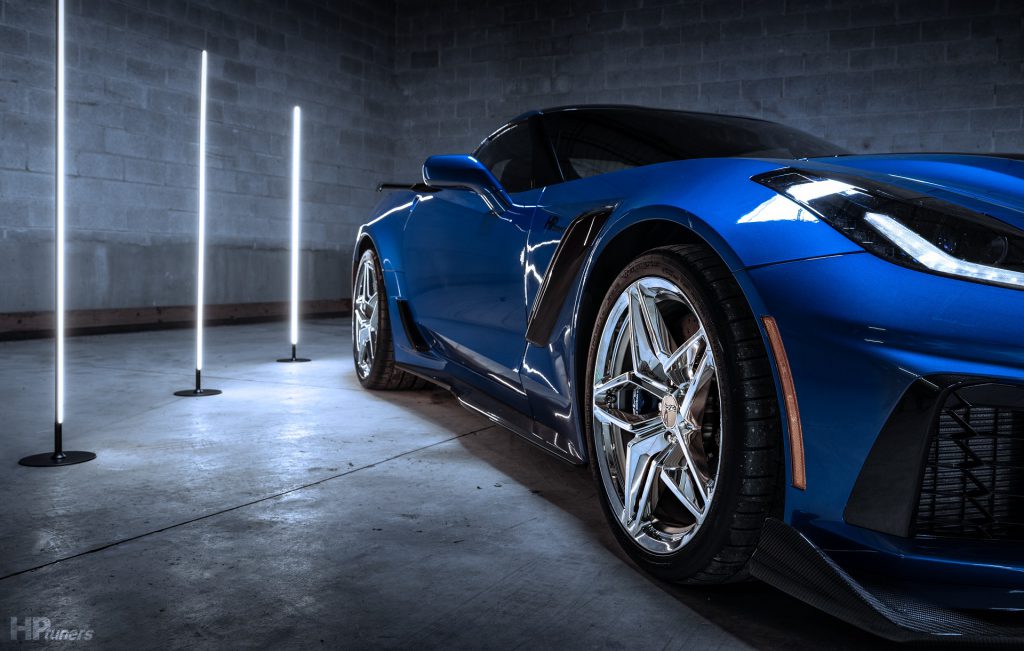 For GM vehicles, so the 2017+ Chevrolet Silverado and GMC Sierra 2500/3500 powered by the 6.6L Duramax, your new ECM from HP Tuners will be programmed to your specific vehicle because you'll provide us with your vehicle's VIN at checkout.
However, for 2015+ Dodge vehicles, we'll need you to provide a stock read file instead which will be programmed to your new, ready-to-tune PCM. Regardless, this purchase option will provide you with a brand new, unlocked, programmed ECM/PCM for your specific vehicle.
Upgrade
Our upgrade service is the most common service we offer. This option upgrades your original ECM/PCM/TCM to accept tunes from HP Tuners' VCM Suite software. This means you'll need to remove your original control module from your vehicle and send it to HP Tuners. Our team will upgrade your original control module so we can work our magic and upgrade it for tuning.
This option is available for:

Many enthusiasts prefer this option because want to use their original control module. And again, before we can upgrade your original control module, it must meet our criteria—no fire or water damage, no internal damage, no broken tabs, and so on.
The biggest thing to note with this service option is that we do not reprogram your original control module for a different vehicle (except for Dodge, see below). For example, if you send us a spare or junkyard control module that isn't from your original vehicle, we will only upgrade it to accept tunes, we won't reprogram it for a different VIN/vehicle.
However, this is not the case with Dodge vehicles. If you own a Dodge/Ram/Jeep/Chrysler vehicle and you want to send us a PCM that's not from your original vehicle, you MUST send us a stock read (of your original vehicle PCM) during checkout so we can reprogram it. This is a requirement to complete the service at checkout.

Although this service option takes longer than the other two, you'll have that peace of mind knowing you'll still use your original ECM for tuning. This option also doesn't require an IMMO relearn, crank relearn, or the "replace ECM" function in VCM Scanner which takes more work off your plate (as long as the control module returns to the same vehicle it came from).
Like the exchange option, upgrading your ECM is more cost-effective, but keep in mind your vehicle will be down for a few days while your control module is being upgraded. Most upgrade services we offer take 1-2 business days to complete (excluding shipping times).
This option has a quick 2-3 business day turnaround time (not including shipping time). So, if you have another daily driver to bum around in for a few days, this would be a good option.
Exchange
Our exchange service is currently only available for the GM E41 ECM found in 2017+ Silverado and Sierra 6.6L Durmax truck. The exchange service for this platform is a cost-effective option that exchanges your original ECM/PCM for an already modified/upgraded ECM from HP Tuners.
This option requires you to remove your original E41 ECM from your truck and send it to HP Tuners. Once we receive your original ECM, will ship you back a different, already upgraded ECM that's programmed to your specific vehicle.
This option is available for:
GM E41 ECM (L5P): (2017+ Chevrolet Silverado and GMC Sierra 2500/3500 6.6L Duramax)
Note: The E90 and E99 ECM Exchange Services are no longer available, effective 3/16/2023. Please select E90/E99 ECM Upgrade Service if you wish to send in an ECM. For any additional questions, please contact support@hptuners.com.

Since you'd be sending us your ECM, it must also meet our criteria—physically intact and functional from a communication perspective. You'll also need to provide us with your VIN so we can program the different, upgraded ECM to your specific vehicle.
However, before you uninstall your original ECM, you'll need to perform the "Replace ECM" function in VCM Scanner located under System > General. Take a look at the installation instructions for this service here.
Options Tailored for You
Depending on your build situation and timeline, we have options tailored to different needs. And while the OEMs are adding an extra step to the tuning/diagnostic process, these ECM/PCM/TCM service options make it simple to get your ride up and running with a custom, DIY tune.
These service options are the first step to unlocking more performance, better fuel economy, or more diagnostic capabilities for your ride. You'll still need your MVPI2, MPVI2+, or MPVI3 device (with credits) and the latest version of VCM Suite BETA to get started tuning. If you own the 2022 Polaris RXR Pro R, you'll also need our Polaris OBDII Adapter Cable (required for tuning).
Note: All the shipping and packaging information for these services can be found on their individual product pages.