GM Global B Custom Tuning Support Now Available by HP Tuners
Published on: June 20, 2023Categories: Press Releases

GM's new "Global B" controllers are now supported in VCM Suite software.
BUFFALO GROVE, IL, June 20th, 2023—HP Tuners is very proud to offer the industry's first comprehensive diagnostics and custom calibration solution for General Motors' latest vehicles running a new generation of control modules and security, commonly known as "Global B".
This breakthrough of support is made possible by HP Tuners' control module services. These services enable access to their full VCM Suite software for diagnostics and tuning via the OBDII port using the latest generation MPVI3 interface. Once upgraded, professional tuners can access hundreds of editable engine and transmission parameters and critical diagnostics data, like boost, camshaft timing, air/fuel ratio, injector timing, and more to properly optimize their customers' vehicles.
At launch, HP Tuners offers diagnostics and tuning support for the following GM control modules:
E99 ECM: Found in GM vehicles like the 2020-2023 Corvette C8 Stingray and Cadillac CT5-V and CT4-V Blackwing (and non-Blackwing variants).
T93 TCM (limited support at launch): Found in E99 ECM-equipped GM vehicles with the 10-speed automatic transmission.
"Our company spent the last 24 months developing various methods of spoofing various electronic sensors in order to trick the ECM into commanding increased boost and performance. However, once we had access to the E99 Global B ECM via HP Tuners' service, we made more tuning progress in five hours than we had in the previous two years" said Scott Cook, owner and lead tuner at Tapout Tuning, specializing in Cadillac V-series performance and tuning.
In the coming months, HP Tuners plans to offer custom tuning support for the full line-up of GM's Global B controllers covering their most popular models. This includes new generations of the E90 ECM, E01 ECM, E66 ECM, and the remainder of T93 TCM support.
"This is only the start of all the GM Global B support that we plan to offer. This has been a long time coming, and another testament to our team's ability to adapt and overcome challenges in the automotive aftermarket", says Andrew Mernone, Chief Operating Officer at HP Tuners.
Learn more about GM Global B tuning support here: http://www.hptuners.com/gmglobalb.
---
ABOUT HP TUNERS—HP Tuners is the leading diagnostics and calibration solution for vehicle aftermarket performance with over 19 years of expertise. HP Tuners offers the most comprehensive solution for OBDII-equipped import, domestic, and powersports vehicles with their MPVI3 interface and VCM Suite software. Connect with HP Tuners at www.hptuners.com.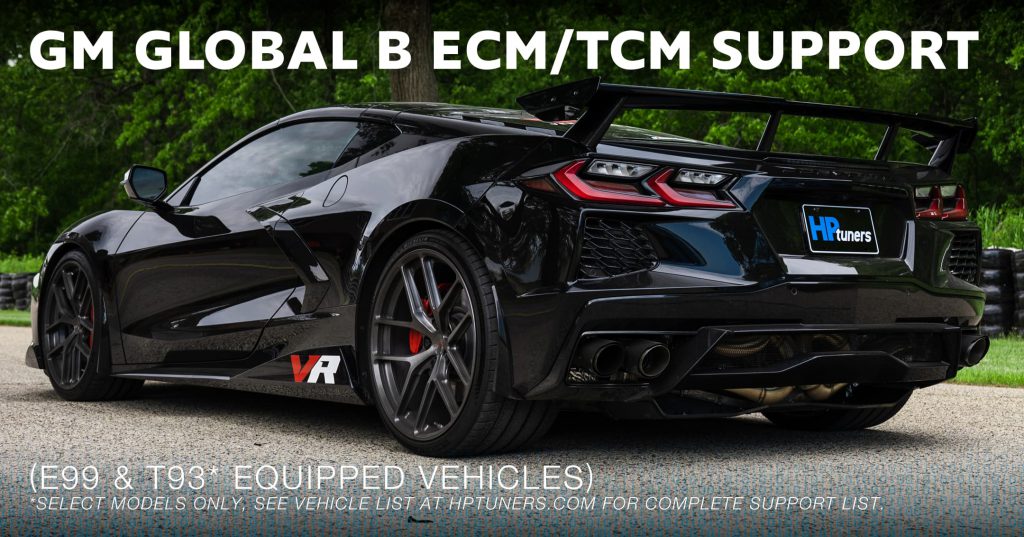 Media contact:
Carly Denk
marketing@hptuners.com