HP Tuners' New E41 ECM Upgrade Kit for L5P/L5D Applications
Published on: February 15, 2023Categories: News and Updates

The new E41 Upgrade Kit allows tuners to upgrade E41 ECMs in the vehicle in 20 minutes or less.
BUFFALO GROVE, IL, February 15th, 2023—HP Tuners, the leading automotive diagnostics and calibration solution, has released a new GM E41 ECM Upgrade Kit allowing professional tuners to upgrade E41 ECMs found in 2017+ Chevrolet Silverado and GMC Sierra 2500/3500 6.6L Duramax trucks (L5P and L5D applications) in the convenience of their own shops. By design, this kit eliminates the need to remove the original E41 ECM from the vehicle and thus potentially breaking ECM tabs. Now, professionals can perform the upgrade in the vehicle in roughly 20 minutes.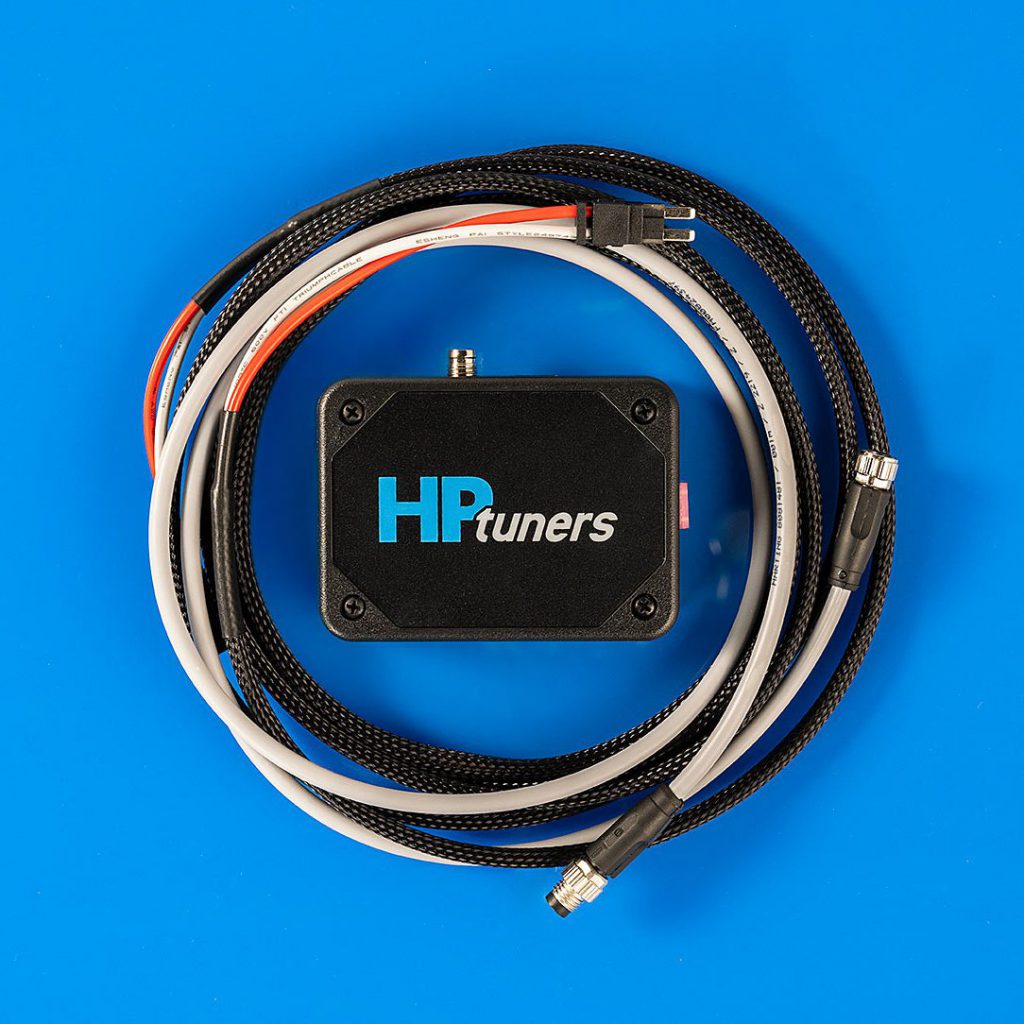 "Since 2018, we were the first to offer custom tuning and calibrations on L5P/L5D Duramax trucks, and now, we have evolved to make it more convenient for shops to do so moving forward. This new kit works in conjunction with the new MPVI3 interface to unlock your E41 ECM without having to remove it from the vehicle—this is key for tuning shops that can't afford downtime.
Custom calibrations, data logging, and scanning are now fully functional in just a few quick and simple steps—no need for Immobilizer Relearn, Crank Relearn, or Replace ECM Function. Shops will also experience the fastest E41 unlock and flash times in the industry 7—ؙ minutes for unlock and 6 minutes for write time!" says Andrew Bailey, HP Tuners' North America Sales Manager for Diesel/Off-Road.
Provided with this do-it-yourself kit are three main components: the HPTNet Cable, the Upgrade cable, and the Upgrade box. During the upgrade process, users will also need an MPVI2+ (with Pro Feature Set upgrade) or an MPVI3 interface, the latest version of VCM Suite BETA, and (8) Universal Credits to license the vehicle.
Once completed and licensed, tuners will have full access to HP Tuners' VCM Suite software package, combining VCM Scanner [diagnostic and data logging software] and VCM Editor [control module editing software]. However, HP Tuners' existing E41 Upgrade, Exchange, and Purchase services are still available to provide tuners with more options.
---
ABOUT HP TUNERS—HP Tuners is the leading diagnostic and calibration solution for vehicle aftermarket performance with over 19 years of expertise. From diagnostics, data logging, scanning, calibration, and more, HP Tuners provides the most comprehensive solution for OBDII-equipped import, domestic, and powersports vehicles with their MPVI3 interface and VCM Suite software.
Media contact
Carly Denk
marketing@hptuners.com