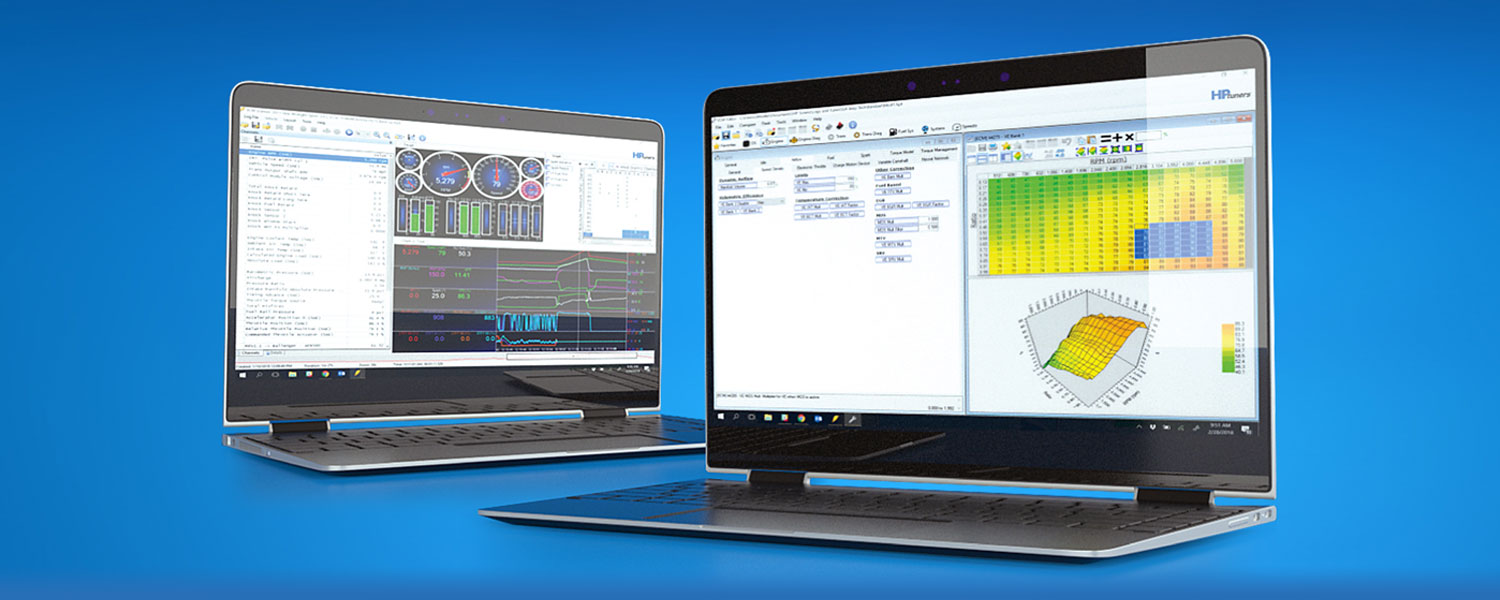 THE SOFTWARE SUITE THAT CHANGED THE GAME.
It's time to dial in your performance for the street, track, off-road trails, or water with VCM Suite—the ultimate diagnostic and calibration software package for enthusiasts and tuning pros.
From scanning, diagnostics, and standalone data logging in VCM Scanner, to parameter editing and programming in VCM Editor, VCM Suite and your flagship OBDII interface device give you the control you deserve and the power you crave to reach your vehicle goals.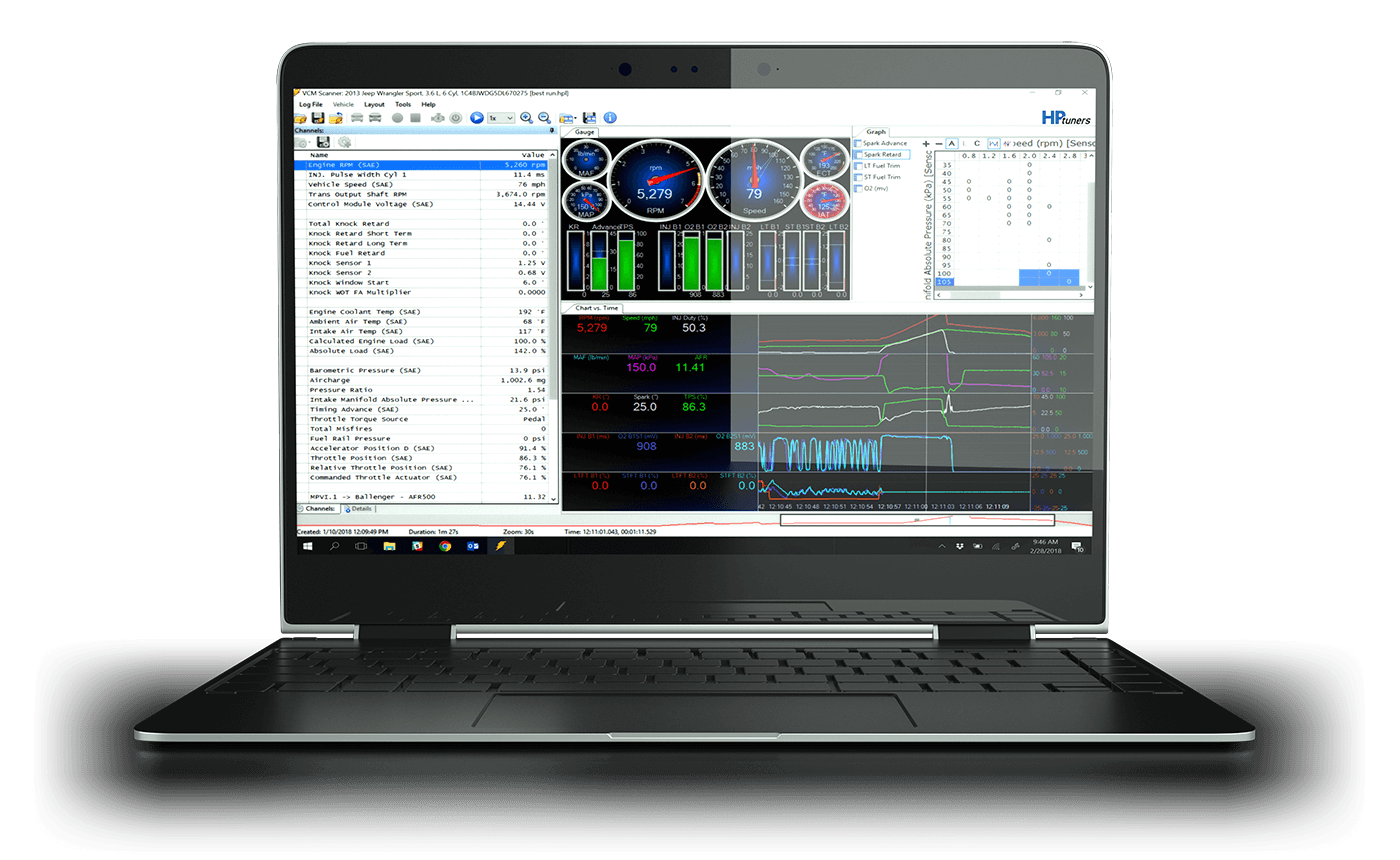 DIAGNOSTICS MADE SIMPLE WITH VCM SCANNER.
Diagnostics are a critical part of making any vehicle more efficient and powerful while also maintaining its emissions control system. With our scanning, logging, and diagnostic software, VCM Scanner, dive deep into your vehicle's performance data with customizable charts, graphs, gauges, tables, and more so you can diagnose issues and find hidden performance!
---
ALL EYES ON YOUR DATA
Scan for Diagnostic Trouble Codes (DTCs). From exhaust and vacuum leaks to misfires, VCM Scanner can scan and read powertrain DTCs when that check engine light pops up on your dash. Scan, log, and chart all your data with customizable charts, graphs, gauges, and tables to find the root cause and officially diagnose the issue.
Manage Vehicle Controls. Unlike the average scan tools at your local auto part stores, MPVI3 and the power of VCM Scanner can control functions like open and closed loop, fans, gear select, timing, and air-fuel ratio—without flashing your control module.
Utilize Special Functions1. Take advantage of special functions like throttle relearn and transmission cleaning (for select GM transmissions) and view/reset various engine and transmission adaptives so you can build the most accurate calibration.1 Use other special features like Gear/Tire Wizard, allowing you to recalibrate your speedometer after installing bigger tires or adjusting gear ratios.
Experience High-Speed, Standalone Data Logging Experience high-speed, standalone data logging on the dyno, track, or street with VCM Scanner and MPVI3, now standard with Pro Feature Set—removing your laptop from the equation. Speed up the process even further with access to exclusive broadcast parameters (available for most supported vehicles). Have eyes on all your vehicle data in real-time and document every log in the process.
Diagnostics for Emissions Compliance View emissions critical diagnostic data in VCM Scanner from your O2 sensors, PCV system, EGR system, catalytic converter, misfires, fuel imbalances (Rich/Lead Threshold), and mass air flow meter to keep your vehicle running efficiently and emission compliant.
1Disclaimer: These functions are only available for select supported vehicles.
---
VCM SCANNER TECHNICAL SPECIFICATIONS:
Powerful User Interface.
Fastest and most feature-rich OBDII scanning tool on the market.
Variable Logging/Playback speeds or user-controlled using the chart display.
Export feature allows you to view/modify your file via Microsoft Excel (.CSV).
Customizable histograms.
Histogram user-defined filters.
Histogram cell count filter.
Printable histograms.
Customizable gauge display.
Customizable chart.
Separate gauge and chart displays.
Sensor-based configuration support.
Installs with default histograms loaded.
Installs in ready-to-scan configuration.
Installs with additional histograms.
User-defined PIDs with complex function support (Example).
MPIDS (Memory PIDs / Manufacturer Specific Parameters) supported.
View and clear DTCs in just seconds (not supported on all vehicles).
View readiness test status (not supported on all vehicles).
Change histogram while scanning.
Change charts while scanning.
Change gauges while scanning.
Change unit value while scanning.
Change config files while scanning.
Copy/Paste special between VCM Scanner and VCM Editor.
User inputted markers and comments.
Log comment section to give commentary for future viewing.
VCM Controls for multiple vehicle manufacturers (view vehicle support page).
Case Learn Feature.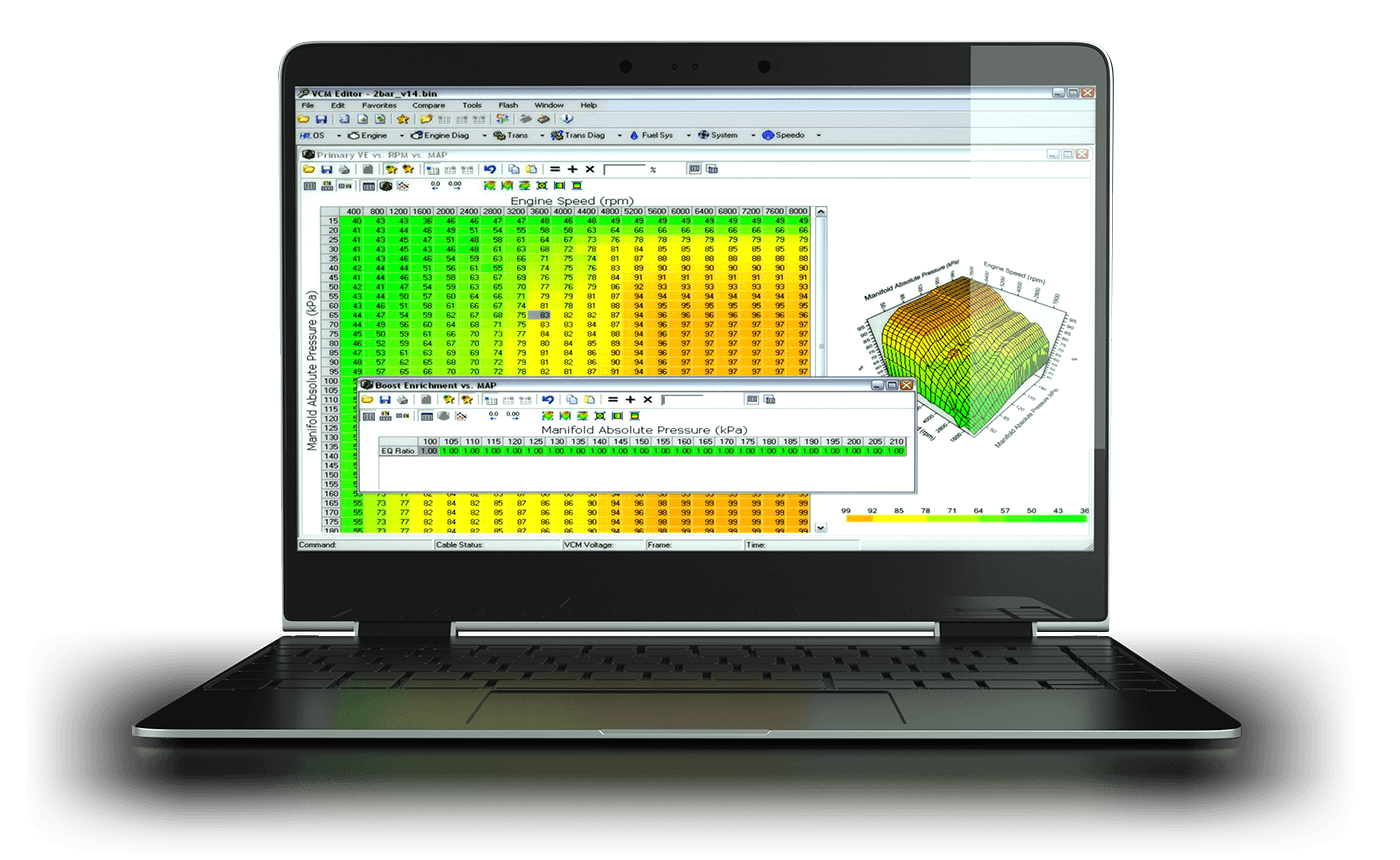 CUSTOM CALIBRATIONS WITH VCM EDITOR
Whether you're an enthusiast or a professional tuner, VCM Editor is built for you. This vehicle control module editing software offers full read, edit, and write functionality with access to a multitude of complex parameters—like torque strategies, spark tables, fueling, RPM limits, and more.
With the fastest read and write times available and more defined parameters than the competition, VCM Editor delivers unparalleled control over your vehicle's performance.
---
THE DETAILS
With VCM Editor, read most vehicle control modules' flash memory and save it in our proprietary .HPT file structure. Once you've finalized your calibration, write your changes back to various control modules via your MPVI3 tool.

VCM Editor's flash utility allows not just calibration reflashing and automated recovery, but entire VCM/PCM image reflashing. This means that you're free to make any operating system or calibration level modifications and flash those to the VCM/PCM. This has many uses for the advanced enthusiast, serious tuner, or engine swap workshop, allowing complete control over the VCM/PCM software environment.

VCM Editor also allows for increased vehicle support for tuners, along with access to extra VCM/PCM operating system code modifications. Additionally, VCM Editor allows the option to modify a VIN, a useful feature for mail order VCM/PCMs.
---
VCM EDITOR TECHNICAL SPECIFICATIONS:
Faster read time of most VCM/PCMs.
Faster write most VCM/PCMs in 30 seconds.
Automated VCM/PCM recovery protection (not supported on all vehicles).
Seamless recovery after complete power down and communications break (exception for rewrite entire).
Obtain the VCM/PCMs calibration information and ID numbers.
Calibration reflash (not supported on all vehicles).
Full reflash.
VIN block reflash / change (not supported on all vehicles).
Explorer-style navigation.
Tab style navigation (tree optional).
Undockable explorer navigator window.
Customizable favorites list which allows you to jump to frequently changed parameters (Example).
Countless editable parameters.
Open multiple tables at once.
Save/Print/Load individual Tables.
Individually save tables/maps to txt format.
Table smoothing.
Table vertical and horizontal specific smoothing.
Table interpolating.
2D Graph click and drag editing.
3D Graph click and drag editing.
Simple +/- key cell adjustments.
1 click copy/paste of tables.
Right-click copy/paste/undo.
Right-click unit adjustments.
Compare files with different OS ID's.
Tree style compare logs.
Easy to use color system when in compare mode.
Calibration Details section to list vehicle details.
Tree style Change log.
Tree style History log.
Change log and History log parameter hyperlinks.
PCM DTC List.
Custom operating systems (VCM Enhancements).
1 Bar Speed Density Enhanced (GM Gen3 V8 and GM 4.3 V6 only).
2 Bar Speed Density (GM Gen3 V8 and GM 4.3 V6 only).
5 Bar Speed Density (GM Gen4 V8 only).
3 Bar Speed Density (GM Gen3 V8 and GM 4.3 V6 only).
Built in unit conversion.
Built in calculator.
Want to learn more about how VCM Suite works?
Check out our YouTube video explaining everything you need to know.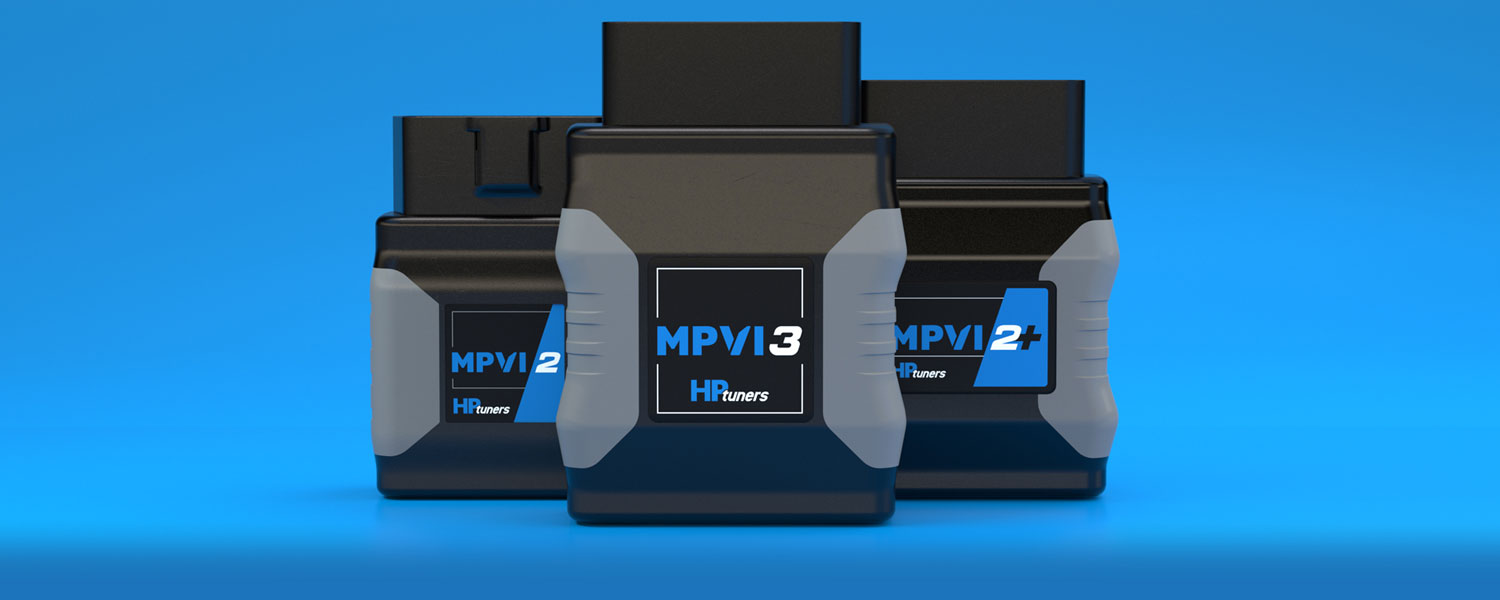 THE MOST SOPHISTICATED INTERFACE TO DATE
Take advantage of the VCM Suite software package using our newest OBDII interface device, the MPVI3, or any previous MPVI generation device.