6 Tips to Improve Your Fuel Economy
Published on: August 4, 2022Categories: Education

With rising oil and gas prices continuing to weigh on drivers across the world, everyone is desperate to extend their MPG as much as possible—whether their daily driver is modified or bone stock.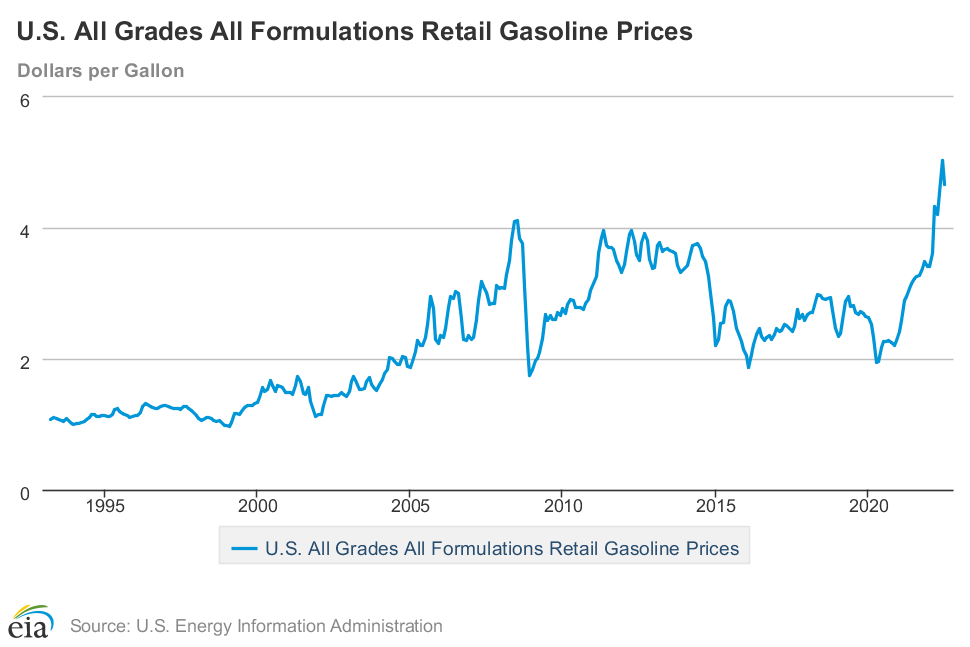 Thankfully, there are some simple steps you can take to improve your fuel economy, regardless of what kind of vehicle and commute you drive every day. And most of these steps won't cost you anything but some of your time.
For drivers who are more serious about achieving the best MPG possible, you can go further with a dedicated fuel economy tune using an HP Tuners interface. This highly effective method provides even better (and more consistent) MPG which ultimately saves you more time and money otherwise spent at the pump.
Contents:
– Check Your Tire Pressure
– Do You Have the Right Viscosity and Amount of Oil?
– Weight Reduction & Aerodynamics
– Octane—Does it Impact Fuel Economy?
– The True Culprit of Bad Fuel Economy
– Fuel Economy Tuning with HP Tuners
– Final Thoughts
Check Your Tire Pressure
This may seem like an obvious step, but the negative impact that low tire pressure can have on your fuel economy is more significant than most people realize.
A study from the U.S. Department of Energy found that even 75% of the recommended tire pressure resulted in a 2-3% overall lower fuel economy. At 50% recommended tire pressure, you're looking at a 5-10% lower fuel economy. While 2-3% or even 5%+ may not seem that significant at first, it adds up fast over a couple of months.
Why is this? When your tire pressure is below the recommended PSI, your tire's rolling resistance increases, creating more friction and ultimately more work for your engine to keep your vehicle moving at a certain speed. More work for your engine = more fuel consumption.
Do You Have the Right Viscosity and Amount of Oil?
While many serious enthusiasts are religious about general maintenance like oil changes and brake replacements, ensuring your vehicle has the proper amount and the right viscosity of engine and transmission oil is another contributing factor to fuel economy. This is especially important during the winter months when fuel economy naturally plummets because of the freezing temperatures. Ensuring your vehicle has enough oil is also a critical component of having a fully functional and healthy engine.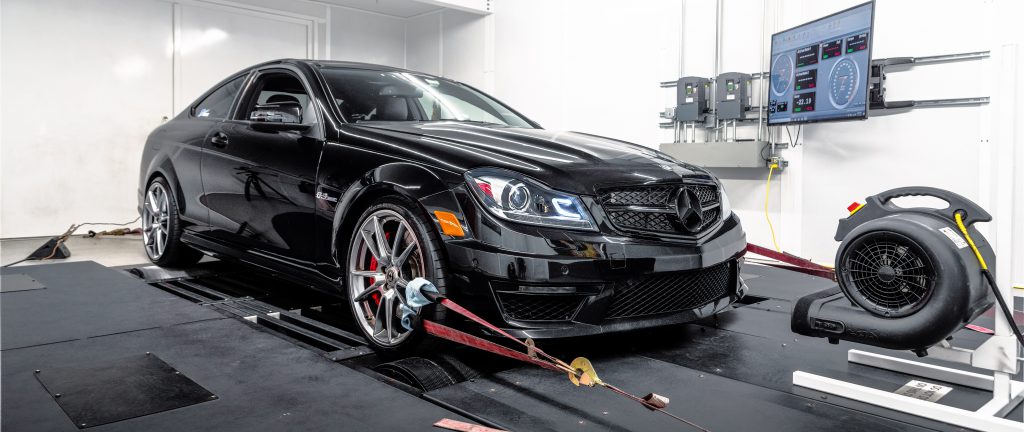 How so? When it comes to your oil and fuel economy, it's all about reducing engine friction. Lower viscosity oils reduce engine friction because they're easier to pump throughout the engine and have lower churning losses. In other words, lower-viscosity oils typically flow throughout your engine easier compared to high-viscosity oils.
But you also must consider your specific region. Do you live in a warm or cold region? In cold climates with freezing winters, cold oil takes longer to warm up and move freely throughout your engine. This won't be the case if you live somewhere warm year-round. This is why manufacturers recommend different oil viscosities for different temperatures. Make sure you check your vehicle manual to find out what your manufacturer recommends.
Weight Reduction & Aerodynamics
No, I'm not talking about stripping out your interior to achieve racecar status. Simply clearing out your vehicle of any unnecessary weight can improve your fuel efficiency. Whether you're an avid enthusiast or mechanic that always carries tools with you "just in case", you're a parent with kid stuff scattered throughout the car, or your trunk is like Mary Poppins' Magic Carpet Bag, you can easily get rid of some unnecessary weight. According to the DOE, for every 100lbs. of unnecessary weight removed, you can increase your MPG by roughly 1%.
Aerodynamics can also massively affect your fuel economy. This is especially important for highway drivers because high-speed driving situations encounter the most aerodynamic drag—the faster you drive, the more air resistance your vehicle must power through. This is not as important for city driving since engine RPMs and speeds are low.
Now, unless you want to make some major body modifications to your vehicle, try following cars instead of leading and keep your windows up. However, keep in mind that A/C is also a huge MPG killer so avoid using it when you can. If you have a roof rack on your vehicle with or without a storage box, consider removing that if you're not actually using it for extra storage. The DOE also claims that this alone can reduce your fuel economy anywhere from 2% to 17%, which is not ideal.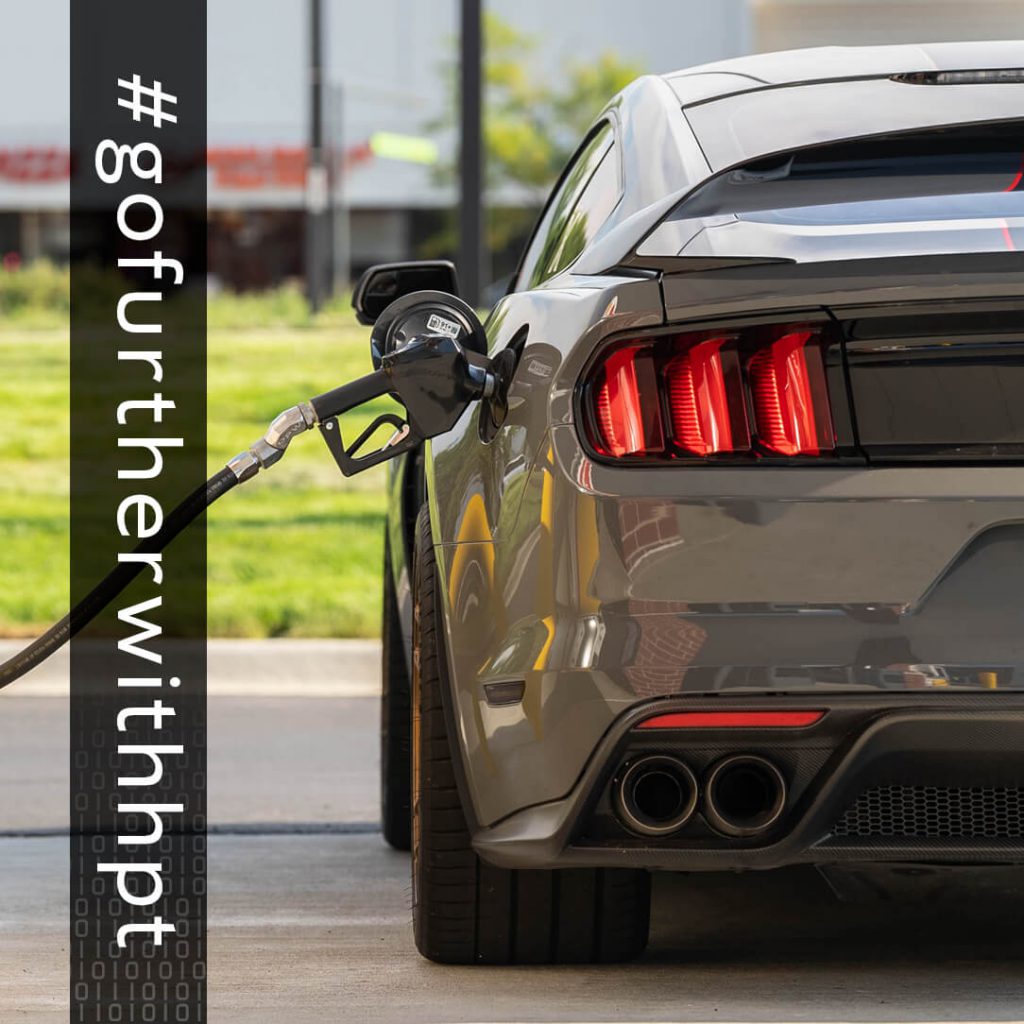 Octane—Does it Impact Fuel Economy?
This question always seems to be a hot topic on the internet with unclear and even contradictory answers. Let's put the confusion to rest with some real data from tuning experts. Can the type of fuel you pump affect your fuel economy? Yes, it certainly can. And the reasoning is simple.
Higher-octane fuel is less prone to pre-ignition otherwise known as engine knock, initiating your vehicle control module to automatically add spark advance or timing. This added timing gives you, the driver, more torque at the pedal requiring less acceleration to speed up and therefore, reduced fuel consumption.
Using less throttle to achieve the same rate of acceleration = less fuel consumption = better fuel economy.
Seeing is believing, so here are some spark tables—one with a car running higher octane fuel and one running a lower octane fuel. Notice the difference in timing between the two. At 1,400RPM, the higher-octane table is running 14.50 to 21.50 deg compared to only 5 to 11 deg from the lower octane.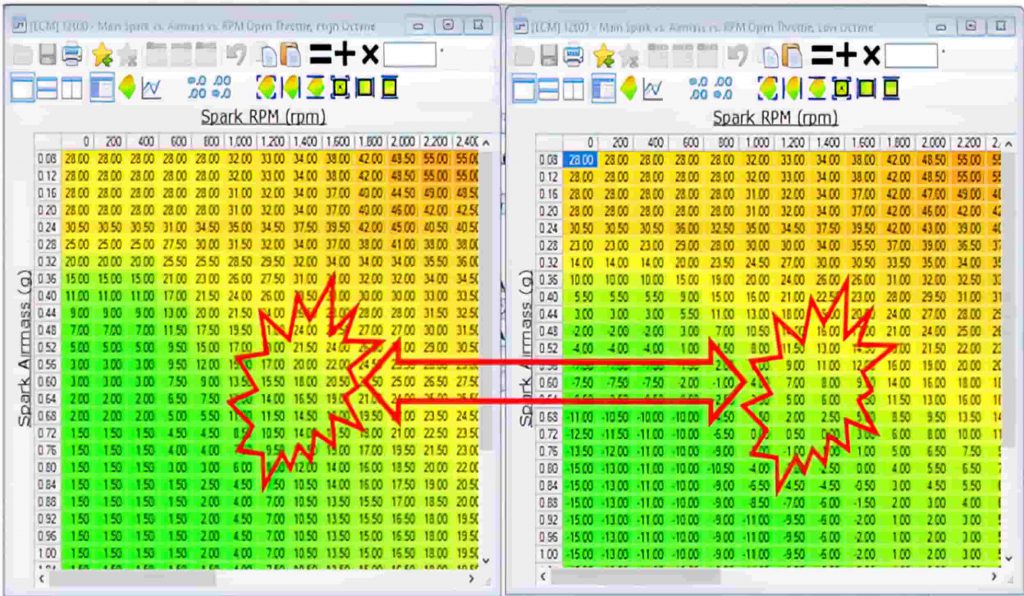 But the real question is whether it's worth pumping a higher-octane fuel and will it make up the difference in price. Unfortunately, there is not a definitive answer here, but it's safe to say that pumping 91 or 93 instead of 87 regular won't make up the difference in price.
However, there is an added benefit of pumping premium fuel that may be worth it for drivers who want to go the extra mile in keeping their engines clean. Some high-octane fuels have more fuel additives than what's required by the EPA, helping keep your engine clean of carbon-build up and corrosion on the valves, intake, spark plugs, fuel injectors, and more.
While the fuel economy benefits of high-octane gas won't always make up for the price difference compared to regular gas, you will achieve better fuel economy and keep your engine cleaner with those extra additives and detergents.
Regardless, always check your vehicle manual first to read what the manufacturer recommends/requires for your specific year/make/model/engine.
The True Culprit of Bad Fuel Economy
Sometimes, the truth hurts—especially this one. The only thing one can truly blame for bad gas mileage is a lead foot. If you're an enthusiast, you can add burnouts, racing, and launching at every stoplight to that list.
Driving with fuel economy in mind can lower your fuel consumption anywhere from 15% to 30% on the highway, and between 10% to 40% in traffic-heavy driving, according to the U.S. Department of Energy. This means driving smoothly with steady acceleration, reducing speeding, limiting idling for long periods of time, gradual braking, coasting when possible, and driving at consistent speeds all help reduce fuel consumption.
Of course, many factors contribute to bad gas mileage, but if you keep your car well-maintained, drive smoothly, and limit speeding, you should almost immediately notice better gas mileage.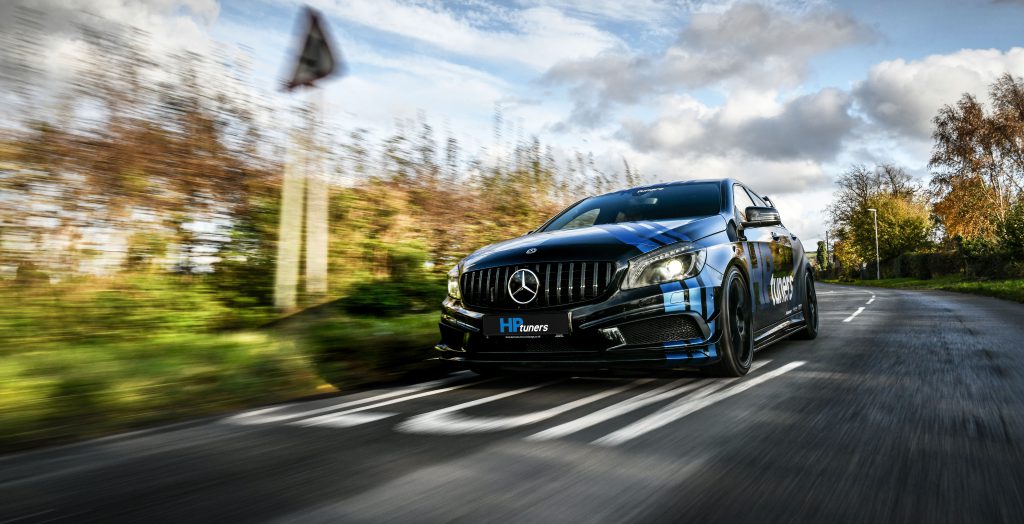 Fuel Economy Tuning with HP Tuners
If you're really determined to achieve the best fuel economy possible, a dedicated fuel economy tune is a highly effective solution.
What you'll need:
MPVI3 or another HP Tuners interface
Pro Feature Set + Pro Link+ (if applicable & optional).
VCM Suite software—includes VCM Scanner and VCM Editor (free download).
A professional, qualified tuner.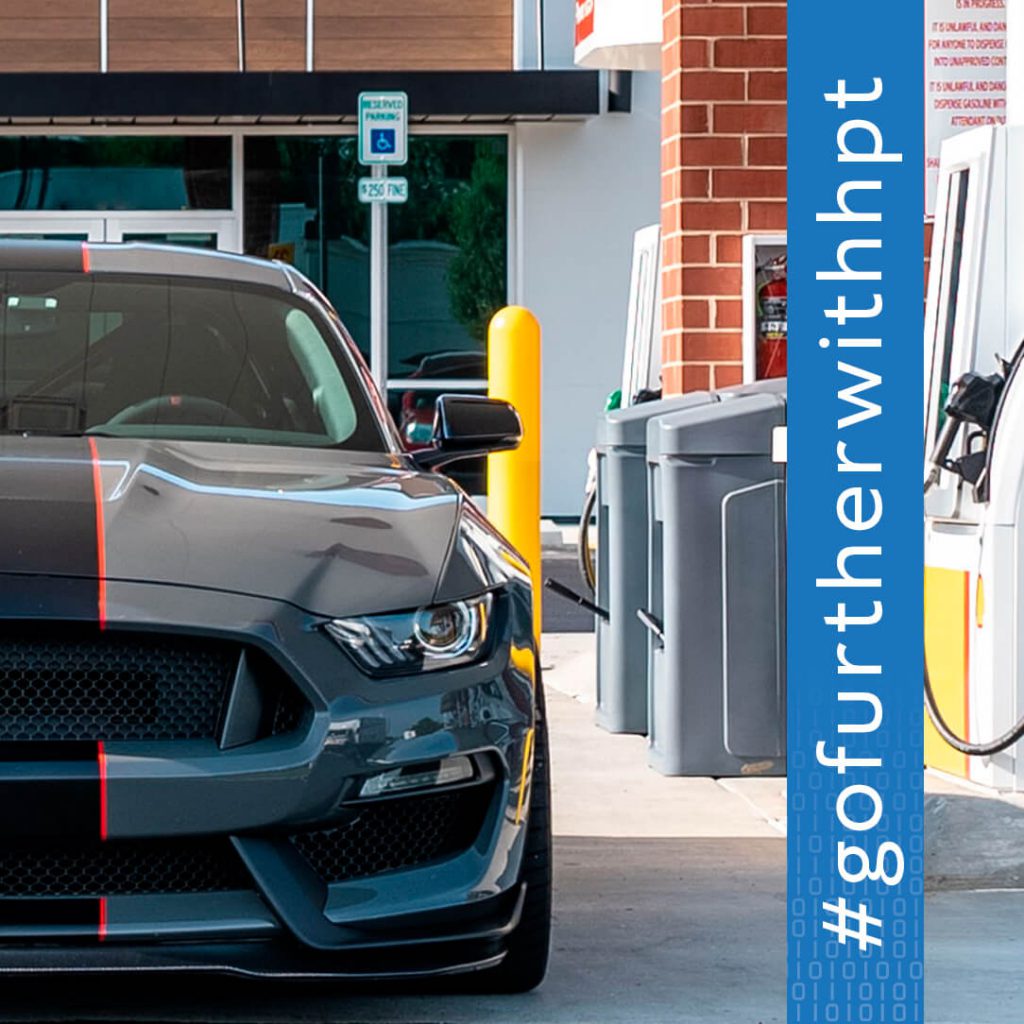 Disclaimer: HP Tuners does not provide any fuel economy tune files. HP Tuners only provides the tools needed to create custom tunes and flash them to your vehicle. HP Tuners also cannot recommend any specific tuners. Please remember that specific calibration changes will depend on your vehicle, engine, modifications, etc. Do your own research, ask your friends, and work with a qualified tuner you trust for calibration changes.
It's also important to mention that any proper tune is ultimately about making your vehicle more efficient. This means you can achieve both performance and fuel economy, but if your goal is strictly to improve fuel economy, you'll sacrifice some performance.
The first step to any custom calibration with a functional vehicle is to run a thorough diagnostics exam using an HP Tuners interface and VCM Scanner. You'll want to ensure you address any check engine lights or mechanical issues, and ensure that all your major sensors and systems are fully functional.
Fuel Economy Tuning Parameters
Once you've moved over to VCM Editor, there are a few common parameters that an experienced calibrator or enthusiast could adjust, including…
Spark Table optimization—You can modify the high-octane table to get more timing, making your vehicle more efficient. The general rule of thumb here is to start with 2 deg at a time. Once you start seeing knock sensor activity, you have reached MBT, or Maximum Brake Torque, for that specific area of the spark table (optimal ignition timing). Note: Make sure you do not use 87 RON tables when you're pumping a higher-octane fuel (93 RON for example) to avoid false knock detection.
Deceleration Fuel Cutoff (DFCO) optimization—Reduce your fuel consumption when coasting down a hill. If you're tuning an automatic vehicle, make sure the torque converter is locked in the area where DFCO is activated.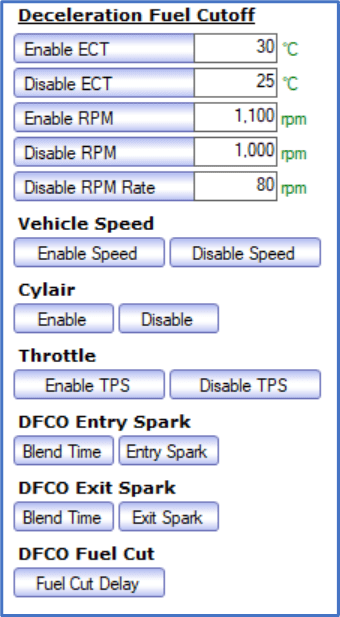 Cylinder Deactivation—Take advantage of this exclusive feature in VCM Suite (available for some vehicles) that can disable specific cylinders in certain gears, improving your fuel economy. Deactivate cylinders when cruising and turn them back on when more power is required.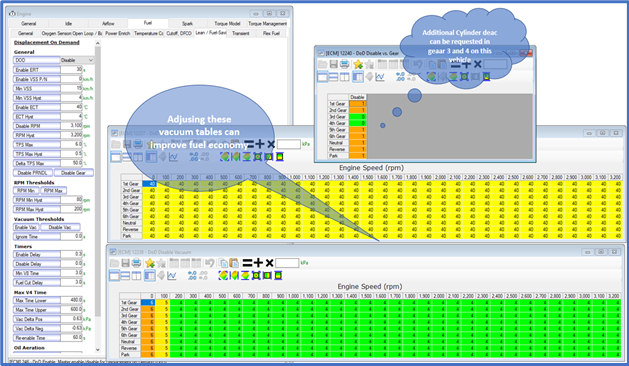 Optimize Closed-Loop Fuel Control—This is an advanced parameter that can be optimized to improve fuel economy. Note: Make sure your O2 sensors are functioning correctly to maintain emissions compliance.
Transmission recalibration—Adjust your transmission calibration to shift earlier, keeping RPMs lower to reduce fuel consumption.
Torque Converter—Locking up the torque converter earlier than OEM will transmit power to the rear wheels faster causing less slippage and commanding more power to the wheels. Remember, you can also optimize cylinder deactivation when the torque converter is locked up.
Limit throttle response by a certain % and adjust fuel enrichment to (delay threshold).
Drop Idle Speed—For fleet vehicles, dropping idle speed by 150-200 RPM is an instant savings of roughly 10% fuel economy for those who idle most of the day. This may not be feasible for all vehicles since idle speed is already low.
These are just a few different parameters and tables to potentially look at when building a fuel economy tune. Whether you're working with a professional tuner, or you are qualified in making these adjustments yourself, always ensure you're maintaining emissions compliance.
Final Thoughts
Achieving better fuel economy is not a difficult task. It really comes down to how you drive, how well your vehicle is maintained, and what kind of fuel you're pumping. Implementing these tips could save your time and money otherwise spent at the gas pump.