Options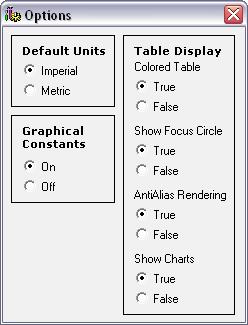 Default Units:
Any parameters that have not had their units manually manipulated by the user will display as the default units.

Graphical Constants:
If you prefer the VCM Suite 1.0 look you can disable the background images for all constants and switches in VCM Suit 2.0. Table buttons will still be displayed using their normal graphical format.
Setting this option to false can help the speed of VCM Editor on very slow computers.

Table Display
Colored Table:
If you do not want to view the standard table display with a color mapped pallet ranging from low to high, you can disable it for an all white table view.
Show Focus Circle:
When in the 2D or 3D view of the table display, a small red circle will highlight the current point your mouse is over.
When you move your mouse over the 2D and 3D views with this option selected, CPU overhead will greatly increase.
To improve performance on slower computers, set this option to False.
AntiAlias Rendering:
You can toggle the way the 2D and 3D graphs are drawn.
Show Charts:
For slower computers you may want to disable the charts to help the speed of the table display.
In most cases, setting this option to False will not increase the performance of the table display in a noticeable manner.