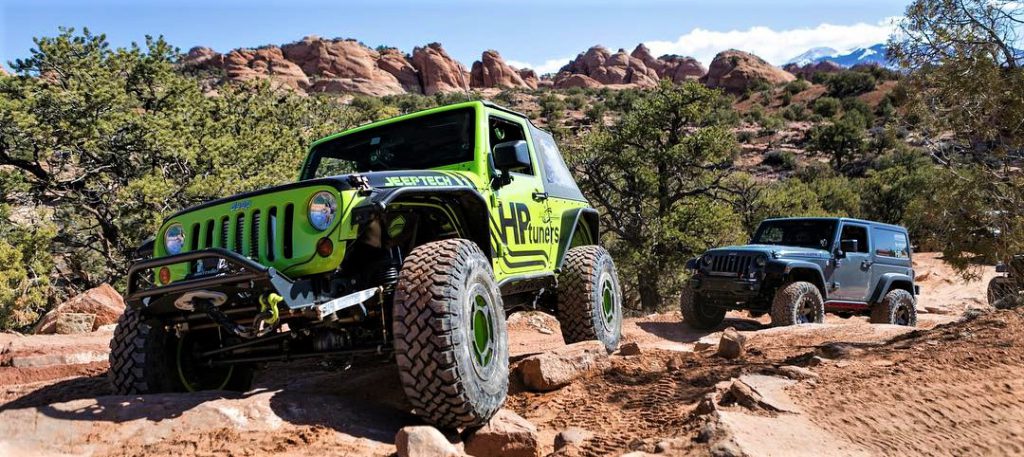 At HP Tuners we strive to provide the most thorough coverage for Chrysler, Dodge, Jeep and RAM vehicles of any tuning tool on the market. HP Tuners is consistently first to market on new vehicles and constantly updates our tuning software to keep you current as Fiat Chrysler Automobiles releases new platforms, transmissions, and engines. HP Tuners support covers many popular models including the Charger, Challenger, Gladiator, Wrangler, RAM 1500s, and all new RAM TRX!
Special features of our Chrysler, Dodge, Jeep, and RAM tuning support include:
Calibrate Supercharged Hellcat Applications: Full engine and transmission support for 2015+ Hellcat, Demon, Redeye, Trackhawk.
VCM Suite Advanced Data Logging gives you vehicle specific PIDs for your vehicle with unmatched logging speed and ease of use.
Hemi Support – all engine and transmission tables needed for proper calibration including Forced Induction. Make it easier to program the vehicle correctly and give your customers optimum drivability.
Cummins diesel Support for 2003-2012 Dodge diesel trucks, with support for the 2007.5-2009 TCM.
Torque Reserve tuning for launch control.
Ethanol Tables for Flex Fuel tuning.
ZF8 transmission support.
Special functions for Jeep JK/JL include Gear and Tire Size (speedo correction), Transfer Case Ratio, Tire Pressure Monitor Calibration with VCM Scanner. No additional credits required.
Jeep Wrangler JK and JL support lets you correct for larger wheels and tires sizes, with all engine and transmission tables needed for proper calibration of shift points and Forced Induction tuning including JL ZF8 transmission support.
Mopar Performance PCM support.
Note: PCM Unlock Service is required for 2015+ vehicles. Once PCM is unlocked, the Smart Access Cable 2018+ unlocks the factory OBDII port for scanning and flashing the PCM.

With VCM Editor, you can adjust a multitude of complex parameters such as torque strategies, spark tables, fueling, RPM limits, fan activations, transmission shift points and pressures, exhaust valve control, speedometer settings and many more. VCM Scanner lets you view, chart, and log diagnostic data in real time via the vehicle's OBDII diagnostic data port. View and clear vehicle Diagnostic Trouble Codes (DTCs) along with other vehicle module information. Command control functions like closed loop, fans, gear select, timing, air fuel ratio and so more all in real time.
Note: 2018+ Dodge/Chrysler/Jeep/RAM requires the Smart Access Cable available here: Dodge 2018+ Smart Access Cable
2015+ Dodge/Chrysler/Jeep/RAM vehicles need the PCM Upgrade Service before tuning.
Some PT Cruiser GT, Neon SRT-4, and early 2000s Dodge Ram/Dodge Durango applications use an NGC1 ECM which are not supported, verify what ECM your vehicle uses before ordering.
---
Complete list of supported Chrysler, Dodge, Jeep, RAM vehicles:
CHRYSLER
| Year | Model Type | Single Vehicle Dodge or Universal Credits | Unlimited Year/Model Dodge or Universal Credits |
| --- | --- | --- | --- |
| 11-161 | 200 3.6L | 2 | N/A |
| 05-211 | 300/300C 2.7, 3.5, 3.6, 5.7, 6.1, 6.4 | 2 | N/A |
| 07-09 | Aspen 3.7, 4.7, 5.7 | 2 | N/A |
| 03-05 | PT Cruiser GT 2.4* | 2 | N/A |
| 06-07 | PT Cruiser GT 2.4 | 2 | N/A |
| 04-10 | Sebring 2.7, 3.5 | 2 | N/A |
| 07-10 | Sebring 2.0, 2.4 | 2 | N/A |
| 05-161 | Town & Country 3.3, 3.6, 3.8, 4.0 | 2 | N/A |
| 07-08 | Pacifica 4.0 | 2 | N/A |
| 17-191 | Pacifica 3.6 | 2 | N/A |
DODGE
Year
Model Type
Single Vehicle Dodge or Universal Credits
Unlimited Year/Model Dodge or Universal Credits
08-14
Avenger 3.5, 3.6
2
N/A
08-14
Avenger 2.0, 2.4
2
N/A
95
Dakota 5.2 (2)
1
N/A
96-03
Dakota 2.5, 3.9, 5.2, 5.9 (2)
1
N/A
04-10
Dakota 3.7, 4.7
2
N/A
13-14
Dart 2.0
2
N/A
98-033
Durango 4.7, 5.2, 5.9 (2)
1
N/A
04-211
Durango 3.6, 3.7, 4.7, 5.7
2
N/A

18-211

211

Durango SRT 6.4

Durango SRT Hellcat 6.2

2

2

N/A

N/A

05-191
Grand Caravan 3.3, 3.6, 3.8, 4.0
2
N/A
07-10
Caliber 2.0, 2.4
2
N/A
08-09
Caliber SRT4 2.4
2
N/A
08-211
Challenger 3.5, 3.6, 5.7, 6.1, 6.4
2
N/A
15-211
Challenger Hellcat 6.2
2
N/A
181
Challenger Demon 6.2
2
N/A
211
Challenger Hellcat Redeye 6.2
2
N/A
06-211
Charger 2.7, 3.5, 3.6, 5.7, 6.1, 6.4
2
N/A
15-211
Charger Hellcat 6.2
2
N/A
09-12
Journey 3.5, 3.6
2
N/A
09-10
Journey 2.4
2
N/A
05-08
Magnum 3.5, 5.7, 6.1
2
N/A
03-053
Neon 2.4
2
N/A
07-12
Nitro 3.7, 4.0
2
N/A
95
Ram 1500 5.2, 8.0 (2)
1
N/A
96-01
Ram 1500 3.9, 5.2, 5.9, 8.0 (2)
1
N/A
023
Ram 1500 4.7, 5.9 (2)
1
N/A
03
Ram 1500 8.0 (2)
1
N/A
04-06
Ram 1500 SRT10 8.3 (2)
1
N/A
04-10
Ram 3.7, 4.7, 5.7
2
N/A
03-07
Ram 5.9 (Diesel)
2
N/A
06-12
Ram 6.7 (Diesel)
2
N/A
95
Ram Van 5.2 (2)
1
N/A
96-02
Ram Van 3.9, 5.2, 5.9 (2)
1
N/A
96-02
Viper 8.0(2)
1
N/A
03-06
Viper 8.3 (2)
1
N/A
08-17
Viper 8.4
20
N/A
JEEP
Year
Model Type
Single Vehicle Dodge or Universal Credits
Unlimited Year/Model Dodge or Universal Credits
96-00
Cherokee 2.5,4.0 (2)
1
N/A
01
Cherokee 4.0 (2)
1
N/A
06-10
Commander 3.7, 4.7, 5.7
2
N/A
07-10
Compass 2.0, 2.4
2
N/A

20-211

21

Gladiator 3.6

Gladiator 3.0 EcoDiesel (2)

2

6

N/A

N/A

96-98
Grand Cherokee 3.9, 5.2 (2)
1
N/A
96-01
Grand Cherokee 4.0 (2)
1
N/A
98
Grand Cherokee 5.9 (2)
1
N/A
99-04
Grand Cherokee 4.7 (2)
1
N/A
05-211
Grand Cherokee 3.6, 3.7, 4.7, 5.7, 6.1, 6.4
2
N/A
18-211
Grand Cherokee SRT Trackhawk 6.2
2
N/A
14-19
Grand Cherokee 3.0 (EDC17C79)(2)
4
N/A
14
Cherokee 3.2
2
N/A
05-12
Liberty 3.7
2
N/A
07-14
Patriot 2.0
2
N/A
07-10
Patriot 2.4
2
N/A
13
Patriot latitude 2.4
2
N/A
16
Renegade 2.0
2
N/A
97-01
Wrangler 2.5 (2)
1
N/A
97-04
Wrangler 4.0 (2)
1
N/A
05-06
Wrangler TJ 2.4, 4.0
2
N/A
07-181
Wrangler JK 3.6, 3.8
2
N/A

18-211

211

211

18-211

Wrangler JL 3.6

Wrangler JL 3.0 EcoDiesel (2)

Wrangler Wrangler Rubicon 392

Wrangler 2.0L/eTorque (2)

2

6

2

4

N/A

N/A

N/A

N/A
RAM
Year
Model Type
Single Vehicle Dodge or Universal Credits
Unlimited Year/Model Dodge or Universal Credits
11-14
1500 Truck 3.6, 3.7, 4.7, 5.7
2
N/A

15-181

201

1500 Truck 3.6, 5.7

1500 Truck 3.0 EcoDiesel (2)

2

6

N/A

N/A

191
1500 (DS) Classic 3.6, 5.7
2
N/A

19-211

211

1500 (DT) 3.6 eTorque, 5.7 eTorque, 5.7

1500 TRX 6.2

2

2

N/A

N/A

14-19
1500 Truck 3.0 (EDC17C79)(2)
4
N/A
11-211
2500 Truck 5.7, 6.4
2
N/A
11
Dakota 3.7, 4.7
2
N/A
DODGE/CHRYSLER/JEEP/RAM ADDITIONAL SUPPORTED CONTROLLERS
| Year | Model Type | Single Vehicle Dodge or Universal Credits | Unlimited Year/Model Dodge or Universal Credits |
| --- | --- | --- | --- |
| 07-09 | Dodge Ram 2500 Cummins Transmission Control Module (TCM) | 2 | N/A |
| 13-20 | ZF8HP 8-Speed Transmission Control Module (TCM) | 4 | N/A |
| 18-21 | ZF8HP2 8-Speed Transmission Control Module (TCM) | 4 | N/A |
| 14-18 | ZF9HP 9-Speed Transmission Control Module (TCM) (2) | 4 | N/A |